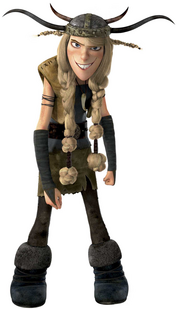 Ruffnut Thorston is the female of the fraternal twins Vikings, making the Tuffnut to be the male. They are constantly arguing with each other, often to the point of physical violence, though never seriously enough to separate them (sometimes they enjoy it, if only to get some feeling back into a spot that has gone numb). They enjoy the suffering of others and when stuff are getting destroyed. In addition to their nasty tempers, they are both wild, reckless adrenaline junkies, and share an equal disdain for reading and a preference for the same weapon (a double-ended spear) in combat. The twins mount a
Hideous Zippleback
, which fits their fractious relationship. Each head seems to agree with one of the twins, and they ride it to great effect in the final battle and afterwards.
Ad blocker interference detected!
Wikia is a free-to-use site that makes money from advertising. We have a modified experience for viewers using ad blockers

Wikia is not accessible if you've made further modifications. Remove the custom ad blocker rule(s) and the page will load as expected.